TOP RATED AERATION SYSTEMS FOR PONDS AND LAKES
Pond aeration, in the form of a sub-surface aerator, fountain, or surface aerator can make a significant improvement in the condition of any pond or lake.  Getting the right sized system is important to achieve just the right mixing, circulation, and oxygenation for a specific application.  That's where we come in at American Aeration.  With nearly 20 years of dedicated service to pond owners and industry, we can help you find the right aerator for your needs!  We work with some of the best brands in the industry as an authorized dealer for Kasco Marine, Easy Pro, Airmax, and more! 
If your just getting started in your research, check out this article on the many benefits of pond aeration which provides answers to the most common questions we get about the different types of aeration used in ponds. 
Lastly, be sure to get in touch with us if you have questions or need help with your pond!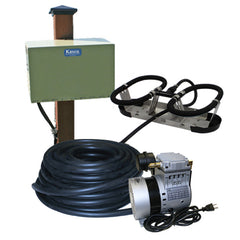 Sub-Surface Pond Aerators
Want the most efficient and cost effective method of aeration? Sub-surface aerators are the answer! We offer a wide selection of aerators to cover any size of pond, from leading brands like Kasco Marine, Airmax, Easy Pro, Keeton and more!
Free professional aerial pond mapping is also available at no extra charge.
Shop Pond Aerators
Our Most Popular Aerators
Beautiful Fountains
Nothing improves the appearance of a pond more than a properly sized fountain. And yes, they do aerate too! If you're looking for the best way to enhance the beauty of your pond be sure to check out our collection of fountains below.
We offer name brands like Kasco Marine, Airmax, and Scott for ponds and lakes of all sizes.
Shop Our Fountain Collection